FedEX Driver Who Hit California Highway Patrol Officer Arrested for DUI
5/13/16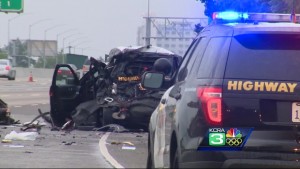 A FedEx truck driver who struck and seriously injured a California Highway Patrol officer in Sacramento has been arrested on suspicion of driving under the influence.
Gregory Anthony Ramirez, 41, of San Lorenzo was arrested and charged with driving under the influence at the time of the collision, the CHP said. Ramirez was booked into the Sacramento County Jail for felony driving under the influence, causing injury and possession of a controlled substance. His bail is set at $50,000.
The CHP said Officer Vincent Smith, an 18-year veteran of the agency, remained hospitalized. The officer was trying to move two vehicles off the eastbound lanes of the highway near 15th Street after they had collided just after 3 a.m., the CHP said.
The rear of the officer's patrol vehicle was mangled by the impact from the FedEx truck, but the officer was on foot when he was hit, according to CHP. It wasn't immediately clear whether the FedEx truck struck the officer directly or whether it struck only his patrol vehicle, causing it to hit the officer.
It's the second major Sacramento crash involving a FedEx big rig in several months. In December, the driver of a FedEx tractor-trailer on southbound Interstate 5 lost control in rainy weather and the truck jumped the center divider, striking a northbound vehicle and killing its driver.
"FedEx Ground is committed to safety as our top priority and we hold anyone providing service on our behalf contractually responsible for operating safely and complying with the law. We are fully cooperating with investigating authorities and will take the appropriate action to address this matter," FedEx spokesperson Davis Westrick said in a statement.
With drug and alcohol testing centers throughout the entire state of California, Accredited Drug Testing Inc. is available to answer all of your drug and alcohol testing questions and needs. For more information contact:
Andrew Gormally
Marketing/Industry Relations Assistant
Andrew@accredtiteddrugtesting.com
http://accrediteddrugtesting.net/
(800) 221-4291
Accredited Drug Testing Inc
Health Screening USA Inc