Study Shows Party Never Stops for Fraternity Brothers
May 23 2016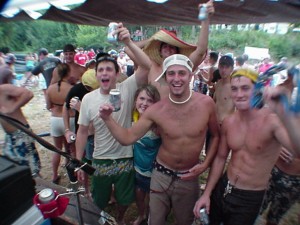 Fraternities are generally shown in films doing crazy stunts, and throwing massive parties. In 2014, some 1,800 college students died from drinking-related causes, drunk students perpetrated 696,000 assaults and close to 100,000 students were sexually assaulted or raped in incidents involving alcohol, according to the National Institute on Alcohol Abuse and Alcoholism's rough estimate.
Not all events involved college fraternities, but because brothers are more likely to drink more heavily than their peers, the fraternal enthusiasm for drinking is a prime target for intervention. New research indicates these interventions were not as successful with members of Greek organizations to their nonaffiliated counterparts.
According to a review representing more than 20 years of research recently published in the American Psychological Association's Health Psychology journal, fraternities seem to resist alcohol education and lessons from peer-mediated groups.
"Stronger interventions may need to be developed for student members of Greek letter organizations," said Lori A. J. Scott-Sheldon, a Brown University psychologist and author of the report.
It is possible that interventions do have effects not captured in the review, due to a phenomenon psychologists call the sleeper effect, in which an argument does not lead to immediate change, but proves to be persuasive in the long run.
"Basically kids can be very smart, but ignorant about alcohol as a drug," University of Pennsylvania addiction expert Charles O'Brien told NBC News in a recent interview. "It's really ridiculous. Officials say, 'alcohol and drugs.' Alcohol is a drug just as much as cocaine." O'Brien said that the University of Pennsylvania now has full-time staff who monitor alcohol consumption on campus, which has helped curb heavy drinking at the school.
With drug and alcohol testing centers throughout the entire United States, Accredited Drug Testing Inc. is available to answer all of your drug and alcohol testing questions and needs. For more information contact:
Andrew Gormally
Marketing/Industry Relations Assistant
Andrew@accredtiteddrugtesting.com
http://accrediteddrugtesting.net/
(800) 221-4291
Accredited Drug Testing Inc
Health Screening USA Inc