Orlando to Consider Decriminalizing Small Amounts of Marijuana
April 18, 2016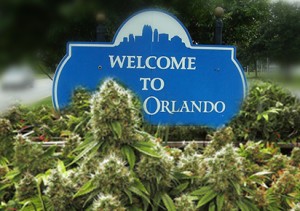 Orlando Mayor Buddy Dyer discussed a possible new civil citation process for misdemeanor violations that would decriminalize possession of small amounts of marijuana. Dyer, along with Orlando Police Chief John Mina and Organize Now, talked about the issue at a news conference at City Hall.
The process, which also will be discussed at a City Council meeting Monday afternoon, would decriminalize possession of less than 20 grams of marijuana, allowing officers to issue citations, rather than make arrests. Under the new proposal, anyone found with 20 grams of the drug or less would not be arrested if it was a first offense. Instead, they would only get a ticket, starting at $50. Fines would increase, and a possible court hearing would be mandated, for repeat offenders. The city of Tampa and Volusia County both approved similar ordinances last month.
Supporters say it would give a lot of people a second chance and prevent them from ending up with a criminal record. Currently the charge for cannabis possession is a criminal offense and can result in jail time of up to a year.
"The third option is not as harsh as an arrest, which can result in jail time and the possibility of lifelong criminal record, but it still holds the offender responsible for their behavior," Dyer said.
Of the 43,000 Orange County Jail bookings last year, about 6,700 were related to drug possession and, of those, only a few hundred were for misdemeanor marijuana possession.
With drug and alcohol testing centers throughout the entire United States, Accredited Drug Testing is there to answer all of your drug and alcohol testing questions and needs. For more information, contact:
Andrew Gormally
Marketing/Industry Relations Assistant
Andrew@accredtiteddrugtesting.com
http://accrediteddrugtesting.net/
(800) 221-4291
Accredited Drug Testing Inc
Health Screening USA Inc