Drug Store Paternity Test, Are They Accurate?
April 6, 2016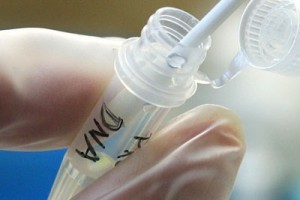 England's controversial talk show host Jeremy Kyle, of the "The Jeremy Kyle Show," recently released a brand of at home paternity tests that are flying off the shelves. AlphaBioLabs in Warrington started selling the DIY kits through discount retail chain stores about 18 months ago and they have seen amazing sales figures.
Three thousand tests have been purchased over the last 18 months, and continue to be snapped up all over the country. AlphaBioLabs sells them for £5, which is about seven U.S dollars, and are available across the country. The tests claim to be 99.9% accurate, and results can be sent back within 24 hours, although you will have to pay nearly £100 ($140) for this service.
Managing director of AlphaBiolabs, David Thomas, said: "We were convinced that consumers wanted the option of being able to see the product and walk away with it in their basket. "These are not accredited to the high standard which the UK public want, so we want AlphaBiolabs to always strive to bring the fastest, most accurate DNA testing service available and fly the flag for UK." The Liverpool firm behind the kit have recently invested a million pounds into analytical equipment, enabling them to lead the way in the industry.
According to the directions, you take a cotton swab and rub it inside the child's mouth. That will provide enough DNA for the test. The man who may or may not be the father has to do the same. After you collect the DNA and send it in, it takes three to five days for the test to come back, and you go to a confidential Web site and get the results.
While the tests are believed to be accurate there are some reasons why women and couples may want to consult a professional laboratory for paternity tests, said Brad Imler, president of the American Pregnancy Association.
"There's no risk of harm from a medical standpoint," he said. "Although they're not admissible in court. And, from an emotional standpoint, it's a good idea to see a professional. It doesn't have to be a doctor, but someone who is prepared to discuss the result with you if it comes back in a way you were not expecting."
With paternity testing centers throughout the entire United States, Accredited Drug Testing Inc. is available to answer all of your paternity testing questions and needs.
For more information contact:
Andrew Gormally
Marketing/Industry Relations Assistant
Andrew@accredtiteddrugtesting.com
http://accrediteddrugtesting.net/
(800) 221-4291
Accredited Drug Testing Inc