Police Officers in the Boca Raton Area to be Required to Carry Heroin Antidote
February 27, 2016
Earlier this month, the Delray Beach Police Department announced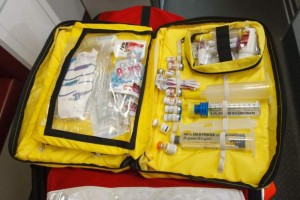 officers would carry the lifesaving heroin overdose antidote. Thirty-two shift supervisors can now check out kits naloxone, which is used to save the lives of heroin users that overdose.
Police departments across the country have seen a spike in heroin overdoses as of late, and in some areas receiving almost ten calls a day. Delray Beach Police Chief Jeff Goldman, has called the recent spike a heroin epidemic. The city has already seen ten suspected heroin overdose deaths.
Heroin is an opioid, that is synthesized from morphine. According to the National Institute on Drug Abuse in 2011, 4.2 million Americans (aged 12 or older) had used heroin once in their lives. Prescription opioid pain medications such as Oxycontin and Vicodin have similar effects to heroin, and when abused, are common gateways to chronic heroin use. Heroin and similar opioids can be easily detected in a 10 panel drug screening.
Many young people who have previously used heroin, reported abusing prescription opioids before turning to the incredibly addicting drug. Others say they took up heroin because it was cheaper and more easily accessible than prescription drugs.
Due to its potency, many users continue and even increase use of the drug to "chase the same high," to ease the physical dependency. Chronic users become physically dependent on the drug to avoid withdrawal symptoms.
Delray Beach Fire Rescue has trained it staff to use naloxone for years, and have already administered the antidote seventy-seven times this year. Unlike paramedics, the police department will be trained to administer the antidote using a nasal spray. Law enforcement officers are generally the first to respond to emergency calls, and training them to resuscitate a heroin overdose can mean life or death. Accredited Drug Testing can easily schedule a drug test that detects the use of heroin and similar opioids, potentially saving someone you know and love.
With drug and alcohol testing centers throughout the Boca Raton area, Accredited Drug Testing is there to answer all of your drug and alcohol testing questions and needs. For more information contact:
Andrew Gormally
Marketing/Industry Relations Assistant
Andrew@accredtiteddrugtesting.com
https://accrediteddrugtesting.net/
(800) 221-4291
Accredited Drug Testing Inc
Health Screening USA Inc