CSX Freight Train Derails
5/2/16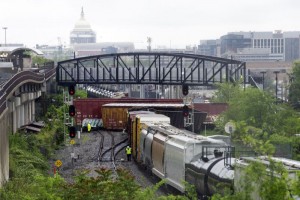 A huge CSX train car plowed into the car in front of it early Sunday, resulting in the cars veering off the tracks and on top of each other.
CSX crews continued to clear rail cars from tracks near the Rhode Island Avenue Metro station Monday, a day after a freight train crashed off the tracks and spilled hazardous material.
The derailment near Rhode Island Avenue and 9th Street NE about 6:40 a.m. Sunday spilled three chemicals onto the tracks, forcing the closure of the Metro station and causing disruptions to Amtrak and MARC service.
Sixteen cars slammed off the tracks near a heavily populated neighborhood. No injuries were reported, and the chemicals pose no immediate danger to the public, D.C. Assistant Fire Chief John Donnelly and CSX spokeswoman Kristin Seay said.
"The safety of the community, first responders and CSX employees remains our priority," Seay said in a statement. About 750 gallons of sodium hydroxide, more commonly known as lye, leaked from one of the derailed tanker cars, CSX said. Another derailed car leaked a non-hazardous calcium chloride solution. A third car seeped ethanol, a fuel additive.
The cause of the derailment was not immediately clear. The 175-car train with 94 loaded cars was en route to Hamlet, North Carolina, from Cumberland, Maryland. CSX said Monday that 16 cars were affected, not the 15 the company previously reported.
Once the rail cars are moved, CSX crews will lay new track and then dig up and haul away soil contaminated by the chemicals. The CSX operation center is expected to remain near the derailment site through at least Thursday. Cleanup work will continue around the clock. The investigation into the cause of the derailment may not be complete until next year, officials said.
With drug and alcohol testing centers throughout the entire state of Maryland, Accredited Drug Testing Inc. is available to answer all of your drug and alcohol testing questions and needs. For more information contact:
Andrew Gormally
Marketing/Industry Relations Assistant
Andrew@accredtiteddrugtesting.com
http://accrediteddrugtesting.net/
(800) 221-4291
Accredited Drug Testing Inc
Health Screening USA Inc