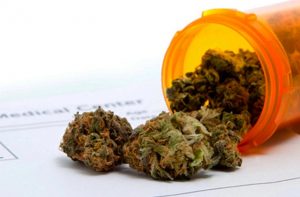 Many Floridians are cheering because today is the day that Amendment 2 Is in effect. The future of medical marijuana became more optimistic when Amendment 2 was passed in November's election.
On Tuesday Jan. 3, Florida's newest constitutional amendment goes into effect which expands the scope of medical marijuana in the Sunshine State.
Amendment 2 has had a troubled history in the past with Florida and when it first was placed on the ballots in 2014 the opposition was fierce. The major opposition at that time was Drug Free Florida who ran an intense attack campaign against the measure and it failed.
In November, the opposition was much less and voters overwhelmingly backed the measure, approving it with 71 percent of the vote.  Amendment 2 is designed to expand the use of medical marijuana. As the Amendment currently reads, low-THC marijuana is only available to patients suffering from debilitating illnesses like cancer and epilepsy. Under the new regulations, those conditions will be expanded to include HIV/AIDS, Parkinson's disease, glaucoma and other conditions licensed practitioners see as a debilitating illness.
Not every licensed physician will be licensed to prescribe medical marijuana. However, Doctors' who want to prescribe the drug must complete an eight-hour course and an examination and patients must be under the doctor's care for at least three months before they're given the approval for medical marijuana.
Per the Florida Department of Health, there are only 340 physicians statewide currently registered to prescribe medical marijuana.
Dispensaries have been working tirelessly to ensure that they are ready for an influx of patients requesting the drug. In Florida, there have been seven organizations have been in discussions to dispose medical marijuana, but only five have been authorized to do so.
State lawmakers will also have to decide the future of regulating the drug once Amendment 2 is 100% in effect. Florida lawmakers are working on a time crunch and they will need to partner with the Florida Department of Health within a six-month time frame to revise the current dispensing rules as they stand.
Once they have been revised, they will have up to nine months to implement those rules, which could throw a snag into the dispensing of the state's newest prescription drug.
For information regarding the effects of drug abuse – Click Here
For  information on a drug free work place – Click Here
For  information on substance abuse programs – Click Here
For information on DOT Drug / Alcohol Testing requirements – Click Here
John Burgos, CPC
Business Development Manager
https://accrediteddrugtesting.net
(800) 221-4291
Accredited Drug Testing