Before understanding what makes a paternity test a legal version, we must discover what DNA Paternity Testing is. DNA testing for paternity helps determines the biological father of a child and is 99.9% accurate.
Each and every person inherits our DNA from our biological parents. 50% of our DNA comes from our Mother and 50% from our Father. Paternity DNA tests compares a child's DNA pattern with that of the assumed father to determine if there is a match. It is important to remember that when you a requesting any DNA test to be performed, you research and utilize an experienced, accredited laboratory, which will provide the most definitive proof of a biological relationship.
When Should I Use A Legal DNA?
We recommend that individuals choose a legal DNA test when results are needed specifically for a court or legal related issues.
Common reason for a legal DNA Test can include:
Paternity Disputes,
Modifications to a Birth Certificate
Child Support
Child Custody
Adoption
Wills/Insurance
Immigration
Legal DNA testing requires specific chain of custody procedures to ensure that the results may be utilized in a legal proceeding.
Some examples include:
Legal Name
Date Of Birth
SS number (last 4)
Government Issued Photo ID**
Signed Chain of Custody Form (donors and collector)
Collector Statement
Collection Facility Information
Collection Process
Certified collectors complete all paperwork and ID Procedures at time of collection. All patients must be positively identified, and a Client Identification and Consent Form must be completed for each patient.
** For individuals under 18 years of age, a photograph (taken at close distance) is required. This may be taken either at the time of collection or provided by the individual or guardian as a recent photo suitable for identification. We also recommend that the birth certificate and/or social security card is provided as additional supporting information.
**Special Note: Collectors should take a Thumbprint (Child Support Collections Only)
Once your specimen has been properly collected following all chain of custody procedures, your DNA samples will be sent securely in tamper-proof packaging to our accredited laboratory in Fairfield, Ohio where the DNA testing begins.
The laboratory technicians will carefully handle and prepare your DNA samples for processing. Each and every paternity test utilizing a cheek swab is processed two separate times in the lab and the results are meticulously checked by our scientists.
What is a NON-Legal DNA Test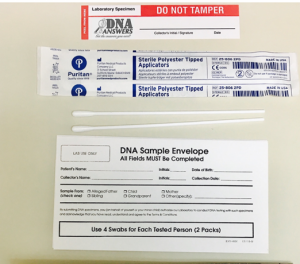 This method is best suited if you need accredited paternity answers fast, but do not require the results for legal reasons such as child support or custody. We offer out clients the option to order an at-home DNA paternity test kit from Accredited Drug Testing.
Our customer service team will ship the complete kit to you with collection instructions, then you may collect your DNA in the comfort of your own home with a simple cheek swab, and mail it directly to our CLIA-certified laboratory for processing.
Special Note: Home DNA testing is not regulated like Legal testing. Many online companies appear legitimate but farm out their tests to unregulated labs or ship your DNA samples out of the U.S. for cheaper processing. Be careful because cheap testing often means cheap testing methods—don't take a chance on your life-changing paternity test.
Step 1: Call Accredited Drug Testing to Get Started, or Order Online.
We will explain the entire process, and make sure you get the RIGHT test for your personal situation.  Accredited Drug Testing will ship the DNA collection kit right to your door.
Step 2: Collect your DNA
It's easy to collect a DNA sample with a simple cheek swab. Use the prepaid envelope included in your kit to submit your DNA or send it via first-class USPS or courier service.
Step 3: Receive Results Online
All specimens are processed two times to ensure accurate results. No other DNA testing laboratory takes this extra step for every paternity test. Once your results are released, Accredited Drug Testing will securely email your results electronically.
Fast, Convenient and Accurate answers in 3 easy steps.
Call us today at
800-221-4291.

We take the stress out of stressful situations!