NBA Player kicked Out Of League For Drug Use
July 5 2016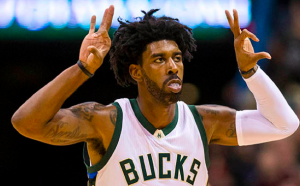 O.J. Mayo could have made a lot of money in the 2016 free agency period, not necessarily because he's that good, but because money is getting thrown around to everyone nowadays. But he will not have the chance. The former Bucks guard has been banned from the NBA.
NBA release:
"The NBA announced today that free agent O.J. Mayo has been dismissed and disqualified from the league for violating the terms of the NBA/NBPA Anti-Drug Program.
Under the Anti-Drug Program, Mayo is eligible to apply for reinstatement in two years.
The NBA, NBA teams, and the Players Association are prohibited from publicly disclosing information regarding the testing or treatment of any NBA player under the Anti-Drug Program, other than to announce a player's suspension or dismissal from the league."
Mayo was suspended 10 games for using a steroid in 2011, but the typical sequence of punishment for steroid violations is 20 games, 45 games, dismissal from the league.
Testing positive for a drug of abuse — amphetamine, methamphetamine, MDMA, cocaine LSD, opiates heroin, codeine, morphine or PCP — can trigger an automatic dismissal and disqualification.
We may never find out for sure, but Mayo can attempt to come back to the league in two years.
Accredited Drug Testing – We work hard everyday to help inform and educate the public on drug safety. It is rare we see celebrities actually receive fair punishment when it comes to drug abuse. The message sent by removing this player from the NBA is strong. The various sport leagues and the athletes that play carry a responsibility to be a good example particularly to the younger fans. It is important for young people to see that you can loose everything you've worked so hard for no matter how famous or big you get.
Brandon Rains
Director Of Online Marketing
https://accrediteddrugtesting.net
(800) 221-4291
Accredited Drug Testing Inc
Health Screening USA Inc