Brazil Olympic team's number of drug-test samples questioned
Aug 10 2016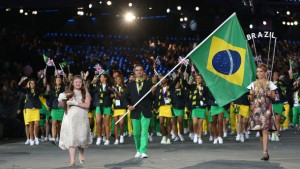 Brazil's Olympic team gave about a third as many samples as normally expected in the crucial month before the games began, CNN can reveal — an "unacceptable practice" according to the world anti-doping watchdog.
The host nation has already been sanctioned by the World Anti-Doping Agency, or WADA, over concerns its testing of its own athletes ahead of the Games was delayed, and perhaps compromised. Yet CNN has learned there may not actually be enough samples to test to give the team — the second largest at the games — a clean record for July. This is because Brazilian athletes gave a significantly reduced number of samples in the first three weeks of July.
Brazil's problems began with the nearly monthlong suspension of the only laboratory in the country accredited by the World Anti-Doping Agency to carry out anti-doping tests, causing delays in the testing of samples the team did give. It was unclear why the laboratory was suspended. Yet the greatly reduced number of samples the team gave in July means there is now a hole in the samples that can be retrospectively tested for the month ahead of the Games, a period the doping watchdog deems "crucial." The Brazilian laboratory has since had its accreditation by WADA restored and will process 6,000 samples from all countries competing during the Games.
A spokesman for WADA, Ben Nichols, told CNN in an email: "We wrote to the ministry pressing our concerns and demanding to know why testing had stopped. The response was not satisfactory, and the situation was unacceptable." Nichols confirmed 110 samples had been collected for testing in the July 1-24 period.
However, Rossi said Brazil's anti-doping agency was struggling to process samples because its laboratory had been suspended. He said WADA was aware of the issue, and blamed the problems on WADA suspending the laboratory. The Brazilian Ministry of Sport said in its statement that 2,227 tests had been done in Brazil between January 1 and June 22, when the laboratory was suspended.

For information regarding the effects of drug abuse – Click Here
For  information on a drug free work place – Click Here
For  information on substance abuse programs – Click Here
For information on DOT Drug / Alcohol Testing requirements – Click Here
Brandon Rains
Director Of Online Marketing
https://accrediteddrugtesting.net
(800) 221-4291
Accredited Drug Testing Inc
Health Screening USA Inc