Federal Investigators Bust Orlando Heroin Drug Ring
February  21, 2016
A joint two-year between federal, state, and local authorities have busted a drug trafficking ring along International Drive in Orlando. The suspects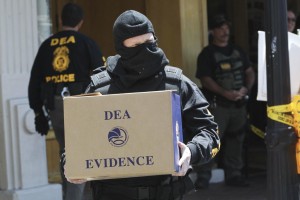 called themselves La Compania and sold heroin twenty-four hours a day, seven days a week.
Authorities report that the suspects sold the opioid over a "heroin hotline" along the busy tourist district. The suspects reportedly made $3.5 million in one year of operation. Eleven suspects were arrested, and are all facing federal drug charges.
Heroin is an opioid, that is synthesized from morphine. According to the National Institute on Drug Abuse in 2011, 4.2 million Americans (aged 12 or older) had used heroin once in their lives. Prescription opioid pain medications such as Oxycontin and Vicodin have similar effects to heroin, and when abused, are common gateways to chronic heroin use. Heroin and similar opioids can be easily detected in a 10 panel drug screening.
Many young people who have previously used heroin, reported abusing prescription opioids before turning to the incredibly addicting drug. Others say they took up it because heroin is cheaper and more easily accessible than prescription drugs.
Due to its potency, many users continue and even increase use of the drug to "chase the same high," to ease the physical dependency. Chronic users become physically dependent on the drug to avoid withdrawal symptoms.
Users would use the "heroin hotline" to buy the drugs, then turn around and sell or use them. Most of the customers were locals who sold the heroin for profit.  Authorities believe busting the suspects were a mid-level organisation, that take players out of an even larger drug trafficking operation.
Orange County officials have taken initiative after a reported 90 heroin-related deaths in the Orange and Osceola county area. In August, leaders in law enforcement, health care and education created a multi-agency Heroin Task Force to eradicate the heroin problem. In January and February alone Orange County Sheriff's Department has responded to seventy-five heroin overdose related calls. Accredited Drug Testing can easily schedule a drug test that detects the use of heroin and similar opioids, potentially saving someone you know and love.
With drug and alcohol testing centers throughout the Orlando area, Accredited Drug Testing is there to answer all of your drug and alcohol testing questions and needs. For more information contact:
Andrew Gormally
Marketing/Industry Relations Assistant
Andrew@accredtiteddrugtesting.com
http://accrediteddrugtesting.net/
(800) 221-4291
Accredited Drug Testing Inc
Health Screening USA Inc