Publix Donates $800,000 to Fight Medical Marijuana Legalization in Florida
July 29, 2016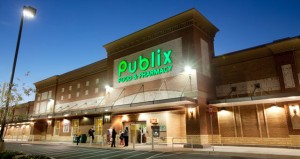 Florida loves Publix, the supermarket chain routinely ranked the most valuable and beloved company in the whole state thanks in no small part to its fantastically salty sub sandwiches. So it's sure to jar a few hard-core Publix fans to learn that the family that founded the chain just donated $800,000 to a conservative-led campaign fighting medical marijuana legalization.
State election records show that the Carol Jenkins Barnett Family Trust donated $800,000 July 14 to Drug Free Florida, the lobbying group running a scare-tactics campaign to kill Florida's medical marijuana amendments. The same group helped squash 2014's medical marijuana amendment, which fell just two percentage points short of the 60 percent vote it needed to pass statewide.
With a similar bill called Amendment 2 on the ballot this November, Drug Free Florida is back spreading lies, half-truths, and misinformation about the proposed law. Miami New Times debunked ten of the group's most egregiously false claims yesterday — and our sister paper, New Times Broward-Palm Beach, also compiled a list of the most hilarious, Reefer Madness-style videos Drug Free Florida has put out this year too.
According to Forbes, Jenkins Barnett, daughter of Publix founder George Jenkins, is worth $1.8 billion and owns under 5 percent of the supermarket chain. She was reportedly Publix's largest shareholder as of June.
It appears Jenkins Barnett, who stepped down from her role with the chain last month as she fights early-onset Alzheimer's at age 59, really doesn't like medical marijuana. She reportedly gave more than $500,000 to Drug Free Florida in 2014 — this year, she's given even more to ensure the amendment doesn't pass.

For information regarding the effects of drug abuse – Click Here
For  information on a drug free work place – Click Here
For  information on substance abuse programs – Click Here
For information on DOT Drug / Alcohol Testing requirements – Click Here
Brandon Rains
Director Of Online Marketing
https://accrediteddrugtesting.net
(800) 221-4291
Accredited Drug Testing Inc
Health Screening USA Inc