San Jose Drug and Alcohol Testing Negative for Greyhound Bus Crash
March 5, 2016
An investigation in the Greyhound rollover bush crash in San Jose that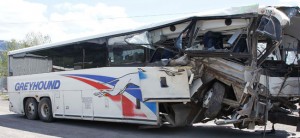 killed two people revealed that no drugs or alcohol were found in his system and that mechanical failure did not cause the crash.
According to investigators there were no mechanical defects identified in the initial inspection of the bus. The 58-year-old driver tested negative for illicit drugs and alcohol in the preliminary toxicology test.
According to the Federal Transit Administration regulations, after a fatal accident, each surviving employee operating the mass transit vehicle at the time of the accident must be tested. Also, any other covered employee whose performance could have contributed to the accident must be tested.
The Department of Transportation regulated post accident toxicology test consists of a five panel urinalysis screening and a breath alcohol test. The Department of Transportation has very strict guidelines for employees in a safety sensitive position. A safety sensitive position is any operators of revenue service vehicles, CDL-holding operators of non revenue service vehicles, vehicle controllers, revenue service vehicle mechanics, and firearm-carrying security personnel.  
Drivers regulated under the Department of Transportation are also required to members of a consortium. The consortium pulls random names four times a quarter, and if selected the employee must immediately take a drug and alcohol screening.  
Although officials are still investigating the crash, they did report that the weather conditions were dark, with light to heavy rain, and11-23 mph winds. A passenger also told officials that the driver also reportedly stopped the bus because he was feeling tired. The bus rammed into an area that separated the high occupancy lane from the through lanes.
The bus then collided with impact barrels in stationed in front of the concrete barrier. According to the report the bus then rode up on the concrete barrier, rotated counterclockwise, and rolled. Officials are still investigating and analysing the busses cameras to find the cause of the crash.
With drug and alcohol testing centers throughout the San Francisco area, Accredited Drug Testing Inc. is available to answer all of your drug and alcohol testing questions and needs. For more information contact:
Andrew Gormally
Marketing/Industry Relations Assistant
Andrew@accredtiteddrugtesting.com
http://accrediteddrugtesting.net/
(800) 221-4291
Accredited Drug Testing Inc
Health Screening USA Inc