Synthetic Drugs On the Rise
April 13, 2016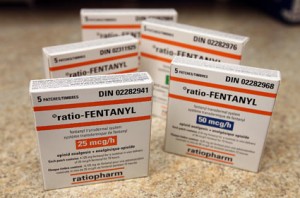 Adolphe Joseph, 34, is serving a 10-year prison sentence for smuggling fentanyl, an opiate 50 to 100 times more powerful than morphine. But he has not been charged for the nearly three pounds of a synthetic opiate more than 10,000 times as powerful as morphine investigators found in his South Florida home last Fall. Nor will he be, say prosecutors.
Fentanyl is a powerful synthetic opiate analgesic similar to but more potent than morphine. It is typically used to treat patients with severe pain, or to manage pain after surgery. It is also sometimes used to treat people with chronic pain who are physically tolerant to opiates. It is a schedule II prescription drug.
Like heroin, morphine, and other opioid drugs, fentanyl works by binding to the body's opiate receptors, highly concentrated in areas of the brain that control pain and emotions. When opiate drugs bind to these receptors, they can drive up dopamine levels in the brain's reward areas, producing a state of euphoria and relaxation.
W-18 is one of thousands of synthetic opiates that is not scheduled as a controlled substance and thus not subject to criminal drug penalties, and one of a handful of drugs that law enforcement officials and scientists say they have seen in increasing numbers in the last six months, as use, abuse and overdose deaths continues to rise.
U-47700, which is seven to eight times stronger than morphine, has been the source of overdoses over the past year in at least 10 states since the first US incident was discovered in Knoxville, Tennessee, in June 2015.
Barry Logan, the executive director for the Center of Forensic Science and Education, said his lab has been able to track down 17 overdose cases of U-47700. And several other overdose deaths and hospitalizations have been identified by local law enforcement in Florida and northern Texas.
Overdoses on synthetic opioids "may be reported as a heroin overdose death unless the medical examiners dig down deep", said Drug Enforcement Administration spokesman Russ Bare. He said forensics scientists often will not take steps to search for existence of a specific compound unless an individual overdoses near drug paraphernalia, or there is other environmental evidence.
Jim Hall, a prominent South Florida epidemiologist, said the chatter he's been hearing from experts and law enforcement about U-47700 in the last few weeks reminds him of the beginning of the Flakka epidemic. Flakka caused panic in the Broward County area over the last few years due to high fatal overdose rates and its effects of causing violent hallucinations paired with superhuman strength.
When Broward prosecutor Anita White was charging Joseph, she found that W-18 was too chemically different from any other controlled substance to make a case at all. Since opiates already resemble the brain's own natural substances in chemical structure, the brain easily assimilates opiate effects within its chemical system. As tolerance levels increase, a dependency cycle takes root leaving the brain unable to regulate chemical processes normally without the drug's effects.
With drug and alcohol testing centers throughout the entire United States, Accredited Drug Testing is there to answer all of your drug and alcohol testing questions and needs. For more information contact:
Andrew Gormally
Marketing/Industry Relations Assistant
Andrew@accredtiteddrugtesting.com
http://accrediteddrugtesting.net/
(800) 221-4291
Accredited Drug Testing Inc
Health Screening USA Inc