Court Date Set for Co-Pilot Suspected of Being Intoxicated
April 14, 2016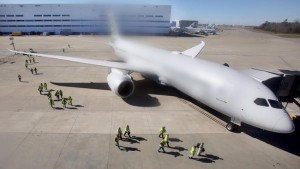 Back in March an American Airlines Co-Pilot was arrested on the tarmac as passengers looked on after failing a breathalyzer test. The flight was about to leave the Detroit Metropolitan airport was headed to Philadelphia, was immediately canceled.
A Transportation Security Agent was the first person to witness the pilot acting suspiciously. Minutes before the flight was scheduled to take off, the airport police were contacted. The co-pilot reportedly failed the initial onsite breathalyzer test. The co-pilot also reportedly failed a second test after being arrested.
Wayne County Prosecutor Kym Worthy said that John Maguire will be arraigned and have a pre-trial hearing May 11 in Romulus, where the airport is located. He's been charged with operating under the influence of alcohol stemming from the March 26 incident. Authorities say he had a blood-alcohol level twice the legal limit.
FAA rules state that "no person may operate or attempt to operate an aircraft" within eight hours of having consumed alcohol or "with a blood alcohol content of 0.04 percent or greater." The agency recommends that pilots wait 24 hours from the last use of alcohol before flying.
Defense attorney Frank Manley says he's taking the case "very seriously" and doing "everything necessary to protect the public and Capt. Maguire." Manley adds his client "has an outstanding record as a professional pilot."
"This is a serious matter and we are assisting local law enforcement and the Federal Aviation Administration with the investigation," American Airlines said in a statement. "We will handle this matter appropriately as the safety and care of our customers and employees is our highest priority."
Related Article
With drug and alcohol testing centers throughout the entire state of Michigan, Accredited Drug Testing Inc. is available to answer all of your drug and alcohol testing questions and needs. For more information contact:
Andrew Gormally
Marketing/Industry Relations Assistant
Andrew@accredtiteddrugtesting.com
http://accrediteddrugtesting.net/
(800) 221-4291
Accredited Drug Testing Inc
Health Screening USA Inc