What is DATIA?

The Drug and Alcohol Testing Industry Association (DATIA) was founded in 1995 and has grown to represent over 1500 member companies, and expanded its scope. DATIA now represents the entire spectrum of drug and alcohol service providers including collection sites, laboratories, consortiums/TPAs, MROs, and testing equipment manufacturers.
The Accredited Collection Facility Program, administered by the Drug & Alcohol Testing Industry Association (DATIA), created by leaders in the drug and alcohol testing industry interested in raising the level of accuracy in urine specimen collections.
This enables collection facilities to assure their clients that they are committed to offering superior collection services.
For some entities, like those regulated under DOT Part 40, its employees must be drug tested by a company with DATIA Certifications.
Drug & Alcohol Testing Industry Association (DATIA) Mission and Purpose
Promote the highest possible standards of professionalism, quality control in the drug and alcohol testing industry, and develop and oversee education, certification, and accreditation programs for the drug and alcohol testing industry
Serve as the voice for the industry on regulatory and legislative matters of drug and alcohol testing, collection issues as well as drug-free workplace regulatory issues
Serve as a body for discussion and resolution of common problems and issues affecting the drug and alcohol testing industry;
Inform its members of issues affecting their businesses through newsletters, legislative alerts, and meetings;
Collect and disseminate information on drug and alcohol service and product providers through a national directory distributed to business and the general public; and,
Actively cooperate with other entities, organizations, and service providers involved with or affected by drug and alcohol testing on common interests and values
The Accredited Collection Facility Program involves upholding the highest professional standards in the following two main areas:
(1)the collection facility and its operation and
(2)the collection facility's personnel.
To obtain accredited status, collection facilities are required to adhere to strict standards in areas such as:
Regulatory compliance
Company services standards
Specimen handling
Operational practices
Business ethics
Facility equipmentAll accredited collection facilities are also required to maintain a staff of Certified Professional Collectors that are formally trained in DATIA's Collector Training Course or that received training from the CPCT on their staff and successfully completed the DATIA Certification Exam.
What Is A SAMHSA Certified Lab?

Formerly known as NIDA, National Institute of Drug Abuse, SAMHSA is a Federal department of Government which regulates and certifies laboratories drug testing specimens. Currently, SAMHSA regulated laboratories are the only type of labs that may process any employee who is governed by the United States Department of Transportation (DOT).
SAMHSA Policies
SAMHSA Laboratory Certification is the highest standard available for drug testing labs and ensures the most accurate processing. Through SAMHSA all non-negative, and positive donor specimens are tested.
The Lab will conduct specimen validity tests (SVTs) to determine if the specimen was adulterated or substituted. Tests found to be adulterated or substituted are also reported to the MRO and may be considered a refusal to test.
At the laboratory, the staff will determine if a flaw in the specimen exists.If a flaw exists, the specimen is rejected for testing.
If no flaw exists, this is the process that a specimen will undergo under SAMHSA Guidelines.
Open only the A bottle and conduct a screening test.
Specimens that screen positive will be analyzed again using a completely different testing methodology.
If the specimen tests negative in either test, the result will be reported as a negative.
Only if the specimen tests positive under both methods will the specimen be reported to the medical review officer as a positive test.
Report the findings of the analysis of the A bottle to the Medical Review Officer (MRO)
Store the A and B bottles for any reported positive, adulterated, or substituted result for at least 12 months.
Accredited Drug Testing Certifications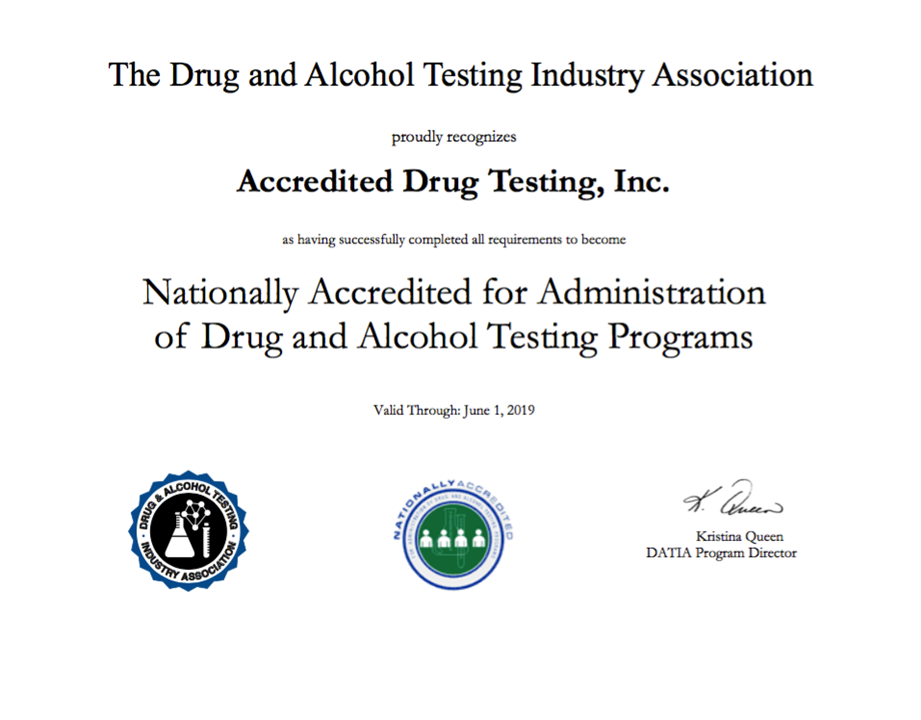 Accredited Drug Testing Is DATIA Certified, and has also been recognized as Nationally Accredited though DATIA. There are only 25 drug testing facilities that have been rewarded this privilege.
Accredited Drug Testing only utilizes SAMSHA Certified Laboratories.
At Accredited Drug testing, we hold our company to the highest values in the Drug Testing Industry to provide our clients this the best services.
"When you need a test, chose the best"!