Florida Voters Legalize Medical Marijuana
Nov 14 2016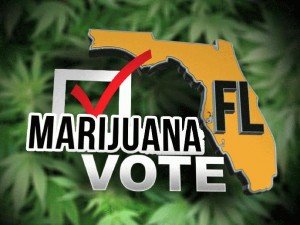 Florida voters approved a state constitutional amendment Tuesday November 8, 2016 to legalize medical marijuana.  This amendment will broaden access to marijuana beyond the limited therapeutic uses approved by the legislature two years ago.
Currently, the law permits non-smoked, low-THC pot for patients with cancer or ailments that cause chronic seizures or severe spasms. The ballot measure formally legalizes medical marijuana, and broadens access for diseases with symptoms other than seizures or spasms.
Amendment 2 was heavily backed by Orlando lawyer John Morgan and the group United for Care.
Specifically, the amendment allows prescriptions for 10 illnesses: cancer, epilepsy, glaucoma, AIDS, post-traumatic stress disorder, amyotrophic lateral sclerosis, Crohn's disease, Parkinson's and multiple sclerosis. It also authorizes doctors to prescribe marijuana for any other similar kind of ailment.VE
Florida becomes the 26th state along with the District of Columbia to legalize the marijuana plant for medical use. Before the passage of Amendment 2, Florida was one of 16 states where only part of the marijuana plant is used.
The Department of Health will regulate how medical marijuana can be distributed along with mandating identification cards for caregivers and patients. Many rules and regulations — from how the marijuana is grown to regulations on how it can be transported for in-home delivery — already have been passed by the legislature under laws for limited use of marijuana. Those regulations also will apply to the constitutional amendment.
FL Amendment 2 – Medical Marijuana100% of Precincts Reporting (6,027/6,027)
Votes
Split
✓ Yes 
6,496,157
71%
No 
2,616,128
28%

For information regarding the effects of drug abuse – Click Here
For  information on a drug free work place – Click Here
For  information on substance abuse programs – Click Here
For information on DOT Drug / Alcohol Testing requirements – Click Here
John Burgos, CPC
Business Development Manager
https://accrediteddrugtesting.net
(800) 221-4291
Accredited Drug Testing Inc
Health Screening USA Inc