WADA The Updated 2017 WADA Prohibited List
Dec 7 2016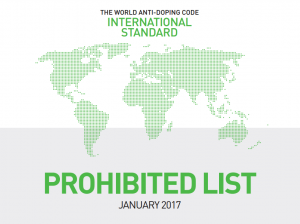 The World Anti-Doping Agency (WADA) has published the updated 2017 WADA Prohibited List, which will go into effect on January 1, 2017. This list regulates athletes, support personnel, including coaches, parents, physicians, trainers, and dieticians which should take some time to review the updated WADA Prohibited List to help understand how specific changes may impact them.
The Prohibited List is comprised of nine categories of prohibited substances and three categories of methods that are prohibited.
Individuals regulated by WADA can utilize the following link for more information on the prohibited status of an ingredient and/or medication. GlobalDRO.com.  This is an easy-to-use and trusted source that is available 24/7/365 to all athletes and support personnel.
In addition to reviewing the updated WADA Prohibited List and using Global DRO please find below some of the highlighted changes for 2017:
Substances and Methods Prohibited At All Times (In and Out-of-Competition)
Anabolic Agents

New Prohibited Substance Added: 5α-androst-2-ene-17-one, commonly known as "Delta-2" or 2-androstenone, was added as an example of metabolite of DHEA, more recently found in dietary supplements.
Peptide Hormones, Growth Factors, Related Substances and Mimetics

Prohibited Substance Added: GATA inhibitors (e.g., K-11706) and Transforming Growth Factor- β (TGF-β) inhibitors (e.g., sotatercept, luspatercept) were added.
S3: Beta-2 Agonists

New Examples of Prohibited Substances Added: Examples of selective and non-selective beta-2-agonists were added (fenoterol, formoterol, higenamine, indacaterol, olodaterol, rocaterol, reproterol, salbutamol, salmeterol, terbutaline, vilanterol). 
S4: Hormone and Metabolic Modulators

Example of Prohibited Substance Added: Androsta-3,5-diene-7,17-dione (arimistane) was added as a new example of aromatase inhibitor.
Prohibited Methods
Manipulations of Blood and Blood Components

Clarification on supplemental oxygen use: Supplemental oxygen administered by inhalation, but not intravenously, is permitted. To clarify this, M1.2 now reads "excluding supplemental oxygen by inhalation."
Substances and Methods Prohibited In-Competition
Stimulants

Example of Prohibited Substance Added: Lisdexamfetamine was added as an example to S6.a; it is an inactive pro-drug of amphetamine
Narcotics

Prohibited Substance Added: Nicomorphine was added. It is an opioid analgesic drug, which is converted to morphine following administration.
 ** For a full listing of updates and clarifications please review the WADA Prohibited List in its entirety.
Athletes may have medically justified illnesses or conditions that require them to take a specific medication/substance, or undergo certain procedures/methods.
If an individual's substance or method appears on the WADA Prohibited List, athletes may be granted a Therapeutic Use Exemption (TUE), which gives them permission to take a substance or use a method. These exemptions are only granted if the athlete provides the medical documentation necessary for an independent TUE Committee to determine that a substance or method is medically necessary to return the athlete to a normal level of health. Learn more at: www.usada.org/substances/tue.
For information regarding the effects of drug abuse – Click Here
For  information on a drug free work place – Click Here
For  information on substance abuse programs – Click Here
For information on DOT Drug / Alcohol Testing requirements – Click Here
John Burgos, CPC
Business Development Manager
https://accrediteddrugtesting.net
(800) 221-4291
Accredited Drug Testing Inc
Health Screening USA Inc