Teen Dies of Overdose of New Type of Ecstasy Called MasterCard
5/10/16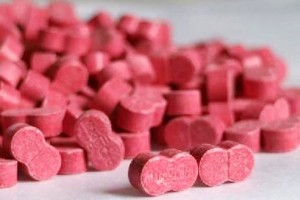 An English teen died after taking a type of ecstasy, called "MasterCard," according to police officials, who issued a dire warning Monday to anyone considering popping the deadly pills.
The young woman, whose name and age were not immediately released, was found on the brink of death at 5 a.m. Monday morning after partying at a Manchester nightclub called Don't Let Daddy Know, Metro reported. She later died at a local hospital.
Police she ingested the pill, which is pink and has a circular shape similar to the credit card company's logo.
"Sadly, we know it is very unlikely that the girl was the only person to have taken this drug last night," Greater Manchester Police Detective Helen Bell said.
Ecstasy is a popular party drug that gives users a euphoric-like high that can distort time and cause heightened sexual experiences. People who use Ecstasy usually take it as a capsule or tablet, though some swallow it in liquid form or snort the powder.
Ecstasy can affect the body's ability to regulate spikes in the body temperature, that can occasionally result in liver, kidney, or heart failure, and possibly death. Many users will take a combination of Ecstasy with other drugs and or alcohol not knowing the possible dangers.
"We are appealing to anyone who may have taken this form of ecstasy, known as 'MasterCard' to get checked out urgently," Bell added. "Even if you took it some hours ago, this pill will still be in your system and could be seriously harming your health."
With drug and alcohol testing centers throughout the entire United States, Accredited Drug Testing Inc. is available to answer all of your drug and alcohol testing questions and needs. For more information contact:
Andrew Gormally
Marketing/Industry Relations Assistant
Andrew@accredtiteddrugtesting.com
http://accrediteddrugtesting.net/
(800) 221-4291
Accredited Drug Testing Inc
Health Screening USA Inc