Would Truck Only Lanes Fix Congestion?
May 20 2016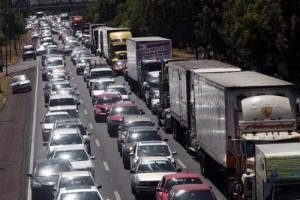 "Dedicated truck lanes that are only for trucks should be everywhere. Seriously, that's the first thing I think of and that should be everywhere, not just even because the ports are going to be congested," Trish Anderson, 53, a truck driver from Mississippi, said while resting at an Ontario truck stop.
"It would make it easier because you don't have to deal with all the cars. If it's all trucks, and everyone's in the same mindset, you don't have to dodge traffic."
With goods movement from the ports of Los Angeles and Long Beach expected to double in the next decade, logistics industry experts are looking at ways to address an expected tsunami of freight through the region's already congested freeways and streets.
Twenty-year traffic forecasts, according to an informational post on the San Bernardino Associated Governments (SABBAG) website, indicate that several Southern California freeways, including the 60 and I-15 in San Bernardino County, will experience increases in truck volumes so great, they'll take up the roadways' entire capacity.
Dedicated truck toll lanes have been proposed by Southern California transportation officials, but to build them, according to the SANBAG's online post, the public cost is likely to exceed $5 billion, of which at least $1.2 billion would be for truck lanes within San Bernardino County.
Renee Miri, 60, a truck driver from Michigan, said truckers wouldn't mind paying tolls for a dedicated truck lane. "Dedicated truck lanes would be great if you had two lanes where you could pass other trucks because trucks always want to pass," Miri said. "Trucks would probably pay tolls because sometimes it takes us five hours to get out of Los Angeles to Barstow when we pick up in L.A. That's just nuts."
"We're not advocating for specific improvements other than additional capacity to help meet freight demands," said Will Kempton, executive director of Transportation California and a former director of Caltrans. "Our program is concerned about the conditions of the roadway, and there are suggestions about dedicated truck lanes in terms of toll operations to allow for that."
With drug and alcohol testing centers throughout the entire United States, Accredited Drug Testing Inc. is available to answer all of your drug and alcohol testing questions and needs. For more information contact:
Andrew Gormally
Marketing/Industry Relations Assistant
Andrew@accredtiteddrugtesting.com
http://accrediteddrugtesting.net/
(800) 221-4291
Accredited Drug Testing Inc
Health Screening USA Inc