2 Dead and 17

 Injured In NJ Transit Bus Accident
Aug 29 2016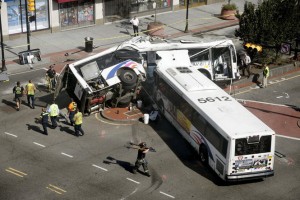 A tragic accident occurred on Friday morning August 19, 2016 when two NJ Transit busses collided.
The driver of the No. 59 bus driver was traveling westbound on Broad Street with no passengers onboard when it T-boned the No. 13 bus headed north on Raymond Boulevard with approximately 20 passengers onboard.
According to a NJ Transit spokesperson, the driver of the 59 bus and 1 passenger were killed along with 17 other passengers taken to nearby hospitals with seven listed in critical condition.  When the two buses collided, the impact forced one to flip over and appeared to be partially split in half at a Newark intersection Friday morning.
The Federal Motor Carrier Safety Administration (FMCSA) and Department Of Transportation (DOT) regulations 49 CFR Part 382.303 regulates the criteria for post accident testing.
What CDL/DOT Drivers Need to Know
DOT drug and alcohol tests include:
Pre-employment – An employer must receive a negative drug test result before permitting a CDL driver to operate a CMV.
Post-accident – Drug and alcohol tests may be required after crashes.  Click here for info https://www.fmcsa.dot.gov/regulations/drug-alcohol-testing/what-tests-are-required-and-when-does-testing-occur
Random – CDL drivers must be randomly tested throughout the year.  Any employer who employs only himself/herself as a driver, who is not leased to a motor carrier, shall implement a random testing program of two or more covered employees in the random testing selection pool as a member of a consortium.
Reasonable suspicion – Drivers who appear to be under the influence of drugs or alcohol are subject to immediate testing. Employers must have trained supervisors to detect the symptoms of driver impairment.
Return-to-duty – This is required for drivers who have tested positive, refused to test, or otherwise violated the prohibitions of  49 CFR Part 382 Subpart B; and drivers must also complete the return-to-duty process with a DOT-qualified substance abuse professional. This return to duty test is directly observed, and a negative result is required before resuming driving duties.
Follow-up – Required for drivers who tested positive, refused, or otherwise violated the prohibitions of and who have completed the return-to-duty process with a DOT-qualified substance abuse professional, and have tested negative for a return-to-duty test. This testing is prescribed by the substance abuse professional for a minimum of 6 directly observed tests in 12 months, but could be extended an additional four years.

For information regarding the effects of drug abuse – Click Here
For  information on a drug free work place – Click Here
For  information on substance abuse programs – Click Here
For information on DOT Drug / Alcohol Testing requirements – Click Here
John Burgos, CPC
Business Development Manager
https://accrediteddrugtesting.net
(800) 221-4291
Accredited Drug Testing Inc
Health Screening USA Inc