Drug Overdoses at a Record High
April 3, 2016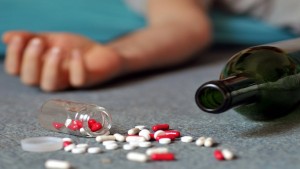 "Overdoses from heroin, prescription drugs, and opioid painkillers have overtaken car accidents to become the leading cause of injury-related deaths in America," The Economist reports. "In 2014, they were responsible for 28,647 deaths.  Between 2001 and 2014, deaths from heroin overdoses alone increased six-fold, according to the National Institute on Drug Abuse. On average, 125 people a day die from drug overdoses, 78 of them from heroin or painkillers.
"Heroin use, which used to be concentrated among low-income men in urban areas, now cuts across regions and demographic groups," The Economist continues. "It is rampant in rural and suburban areas, like West Virginia and New Hampshire, and increasing among women and Americans in higher income brackets. Among adults aged between 18 and 25, heroin use has more than doubled in the last ten years. The problem has come increasingly into public view as police find users unconscious or dead in bathrooms, restaurants, parks, and libraries."
Heroin is an opioid, that is synthesized from morphine. According to the National Institute on Drug Abuse in 2011, 4.2 million Americans (aged 12 or older) had used heroin once in their lives. Prescription opioid pain medications such as OxyContin and Vicodin have similar effects to heroin, and when abused, are common gateways to chronic heroin use. Heroin and similar opioids can be easily detected in a 10 panel drug screening.
In St. Louis, one of America's most dangerous cities, turf wars among drug dealers responding to an influx of cheap heroin from a Mexican cartel fueled a sharp spike in the murder rate. In a trend mimicked in large cities nationally, many of the heroin consumers in St. Louis are young whites in their 20s, who drive into the city from suburbs and distant rural areas. And while most heroin overdose victims here are white, nearly all of the shooting victims and suspects in St. Louis this year have been African-American men and boys. Due to its potency, many users continue and even increase use of the drug to "chase the same high," to ease the physical dependency. Chronic users become physically dependent on the drug to avoid withdrawal symptoms.
Police departments are training their staff to use naloxone, the lifesaving antidote for heroin overdoses. Unlike paramedics, the police department will be trained to administer the antidote using a nasal spray. Law enforcement officers are generally the first to respond to emergency calls, and training them to resuscitate a heroin overdose can mean life or death.
With drug and alcohol testing centers throughout the entire United States, Accredited Drug Testing is there to answer all of your drug and alcohol testing questions and needs.
For more information contact:
Andrew Gormally
Marketing/Industry Relations Assistant
Andrew@accredtiteddrugtesting.com
http://accrediteddrugtesting.net/
(800) 221-4291
Accredited Drug Testing Inc