Teens Buying Nicotine Online
April 11, 2016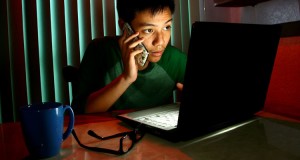 Selling tobacco products to minor is illegal in the United States, but that hasn't stopped online stores from selling nicotine-infused liquids to use with electronic cigarettes. Big tobacco companies, including Altria Group Inc, Lorillard Tobacco Co and Reynolds American Inc, are all developing e-cigarettes. The battery-powered devices feature a glowing tip and a heating element that turns liquid nicotine and other flavorings into a cloud of vapor that users inhale.
When researchers tested a random selection of 120 popular e-cigarette websites, only four virtual stores prevented the sale of e-liquids to minors, the study found. "At this time, the liquid nicotine and electronic cigarette market in the United States is largely unregulated, which we believe to be a large factor behind so few vendors implementing effective restrictions on youth access," said lead study author Dmitriy Nikitin, a researcher at the University of California, Irvine.
Adolescents who try e-cigarettes may be more than twice as likely to move on to smoking conventional cigarettes as those who have never tried the devices, previous research has found. About 2 million middle and high-school students tried e-cigarettes in 2014, triple the number of teen users in 2013, the Centers for Disease Control and Prevention reported last year.
One limitation of the analysis, the researchers note, is that it didn't examine e-liquid sellers who operate on social networks like Facebook, and Reddit, which may have led them to underestimate the ease of online purchasing.
Many U.S. states already ban sales of e-cigarettes to minors, but vendors need clear guidelines to follow for preventing underage purchases to make these policies more effective, said Adam Leventhal, director of the University of Southern California Health, Emotion and Addiction Laboratory in Los Angeles.
"In addition to the health hazards of vaping nicotine, other forms of nicotine ingestion like swallowing can be deadly," Leventhal said. "The high concentration of nicotine in some e-liquids if swallowed or absorbed into the body through other means is toxic, especially for infants and toddlers, who may be the siblings of older children who might be purchasing e-liquids and not aware of such hazards."
With drug and alcohol testing centers throughout the entire United States, Accredited Drug Testing is there to answer all of your drug and alcohol testing questions and needs. For more information, contact: