Winnipeg drivers asked to voluntarily submit DNA sample for drug testing at check point
Oct. 17 2016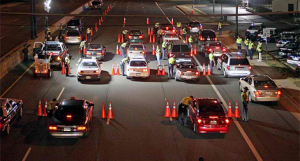 WINNIPEG — It was an unusual roadside check point that had left some Winnipeggers wondering what their information may be used for.
In the early morning hours of Sept. 8, drivers were being checked at a roadside stop on Century Avenue and asked the standard "have you been drinking" question by Winnipeg police officers.
However, the conversation that followed is what left some drivers concerned.
Once drivers were cleared by police, they were solicited complete a voluntary survey.
"We are asking for your help in a voluntary driver safety survey that deals with alcohol, drugs and driving," read a part of the survey obtained by Global News. "(You will be asked) to provide a breath sample to measure the amount of alcohol in your system… If the test shows that you are over the legal limit, you will be asked to let a non-impaired passenger drive, or we will provide you with a free taxi ride to your destination."
Volunteers were handed a tablet which contained several survey questions.  Some examples were, "have you been drinking anything tonight, when was the last time you used heroin, and when was the last time you used cocaine."
Many motorists claimed that after the breathalyzer the really invasive part of the survey began and volunteers where handed a saliva swab and were given the instructions of putting the swab under their tongue until the sensor turns blue.
MPI said it is using the samples to test for drug usage and are trying to determine a baseline before marijuana use is legalized in Canada.
"The goal is to get 1,200 surveys," said MPI spokesperson Brian Smiley. "From those 1,200 we'll have a very firm baseline in terms of what actually is happening out there and the impact legalization may have on impaired driving in Manitoba."
MPI said all information is voluntary and remains anonymous.
Participants were given a $10 gift certificate, provided by Mothers Against Drunk Driving, for taking the survey.
MPI said they will be conducting these surveys every Wednesday through Saturday until the end of September. They will be conducted in Winnipeg, Brandon, Thompson, Steinbach and Portage la Prairie.

For information regarding the effects of drug abuse – Click Here
For  information on a drug free work place – Click Here
For  information on substance abuse programs – Click Here
For information on DOT Drug / Alcohol Testing requirements – Click Here
John Burgos, CPC
Business Development Manager
https://accrediteddrugtesting.net
(800) 221-4291
Accredited Drug Testing Inc
Health Screening USA Inc